The Quarry Trail of #FXBG
When I was a kid I spent my life wandering around in the woods.  I love the peace and quiet, the adventures I would imagine, and the enjoyment of stumbling upon a babbling creek.  The nature I encountered during those long hikes almost every day were my very own fortress of solitude. As I got older and life took over I came to forget the love I had for being outdoors.
Last year I went on a hike in Westmoreland state park and that made me want more time in the woods. I bought some new gear from River Rock Outfitters (AMAZING customer service and really great store) and decided to join a group at Old Rag mountain near Shenandoah National Park.  I thought I was going to die. I completed the hike, but I wasn't sure my out-of-shape body was going to let me live to talk about it. The view was beautiful and I'm happy I was able to complete the hike.
I bought some more gear, downloaded some new apps, and went camping for the first time in a long time months later. That got me hooked. I had the bug again, but carving out time to travel and hike was challenging.  When COVID hit it forced me to be home and not on travel lecturing. I've spent the time organizing my life and indulging in some hobbies became a priority. What better hobby during a pandemic that getting some fresh air and being in nature?
Last weekend I opened up the Alltrails app to see what it said about the area's Civil War trails and BOOM! I found the Quarry Trail, which is a five-minute ride from my house. I've lived in Fredericksburg all my life and I knew there were some trails around but had no idea how perfect this trail was nor how conveniently located it was to where I live.
The Quarry Trail (also known as the USGS, Big Bill, and Ridgeline Trails loop on the Alltrails app) was perfect. It's rated as moderate and it has support for mountain bikes and hikers.  Once I looked over the hike and the great reviews on the app, I grabbed my pack and some trail mix, and off I went.
I spent about three hours starting from the parking lot off Fall Hill Avenue next to Sunshine Baseball Park.  For mountain bike riders (another recent hobby of mine) there is a bike repair station with an assortment of tools and resources located right at the trail's entrance.
Once you enter the trail you can see it's well maintained by the FredTrails volunteer group. They have even created a useful map (see below). There are various options for hiking and the hike will take you down to the Rappahannock River, near the old quarry, up inclines to overlook the interstate overpass, along creeks, and more.  Essentially everything you'd like to see during a Sunday afternoon nature hike in Fredericksburg is right here.
The various trails could be marked a little better, but anyone with a reasonable sense of direction and experience hiking will find that it's not challenging to maintain your orientation. Avenza Map app is free and has a great offline map of the hiking trails you can download on your phone just in case you want the security of a map.
If you're looking for a way to get outside and enjoy some fresh air, plus some healthy exercise and great views of nature you need to spend an afternoon hiking or biking this trail. Grab your favorite hiking Spotify playlist, some trail mix, and some water and get outside!  You'll be glad you did!
Quarry Trail Map (Hat-Tip To FredTrails)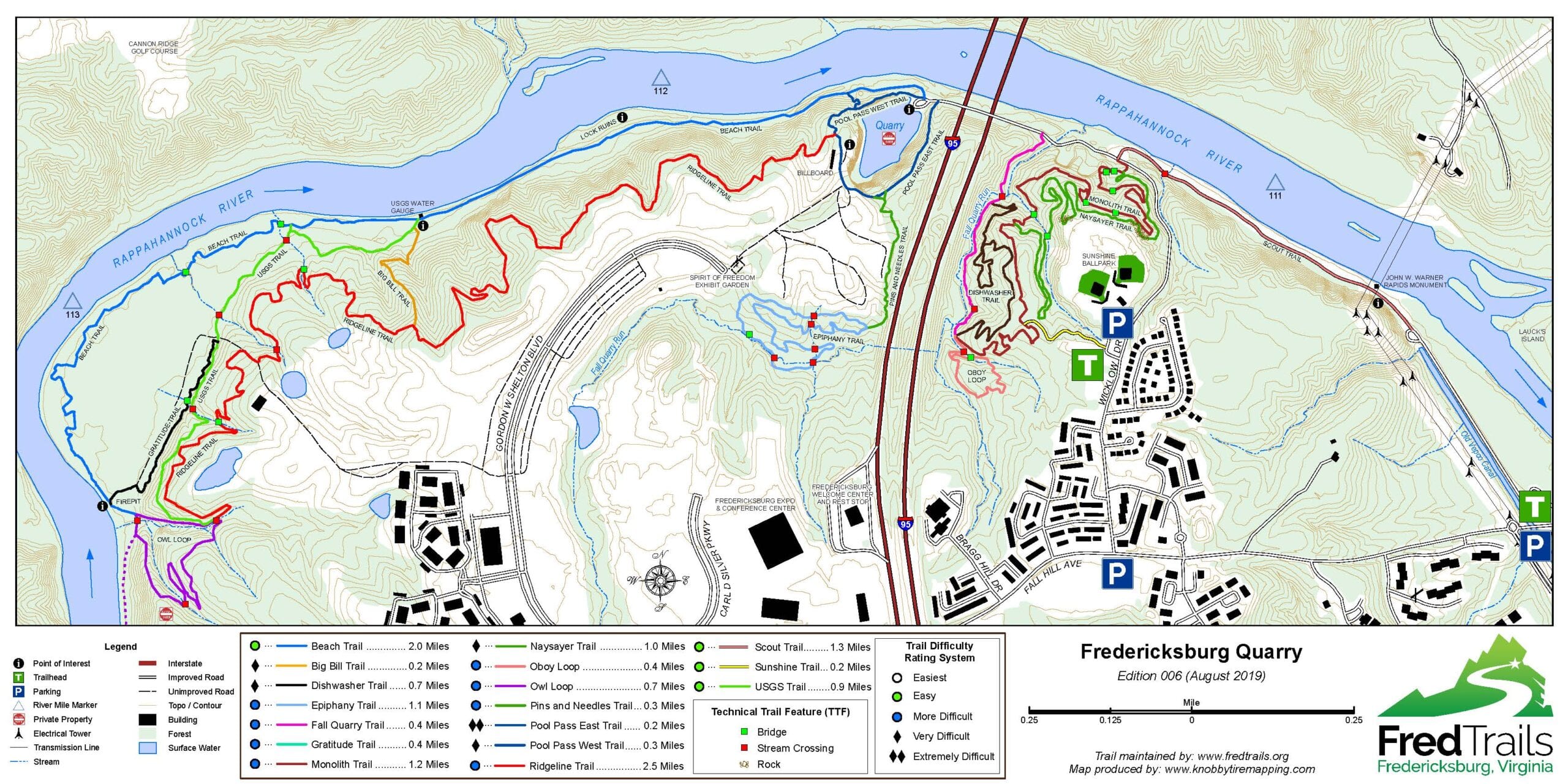 Apps and Resources
AllTrails Website and Mobile App (free)
Strava Hike Tracking App (free)
Avenza Maps Offline and GPS Maps (free)